Singer's Alias: Azura
Character's Name
: Amaranthina (Aka Ryuuko) (No Last Name)
Character's Age
: 17
Character's Orientation
: Bi, with a preference for girls. Would like to have a love pairing, more info in Side.
Character's Gender
: ♀
Character's Personality
: Amaranthina is known for her gruff and tough persona. She puts up with few, and beats up many. However, she is not evil at heart; she simply doesn't know the meaning of kindness. She is secretly a lover of the arts- her passion is painting and singing. She hides her calm, vulnerable side with fierceness as a sort of defense, due to her cynical and untrusting nature. Ryuuko, as she is known on the streets due to her wrathful fighting skill, strikes fear into the hearts of any and all, from the heinous villains to the innocent bystanders. She sneers at justice, and torments the weak for her own sadistic pleasure. Her one weakness is sweets; she has a shocking sweet tooth and rarely eats anything else. However, due to her metabolism and physical nature, she maintains a powerful and voluptuous body. She is very aware of this; and is extremely vain. Her wrath is unmatched if her appearance is insulted or somehow harmed. On the flip-side, she is a very determined individual- she puts her heart into her intentions and her goals (as questionable as they may be). She is also a devoted lover; to the ones that earn her heart, she is not only faithful, but fiercely protective.
Character's Appearance
: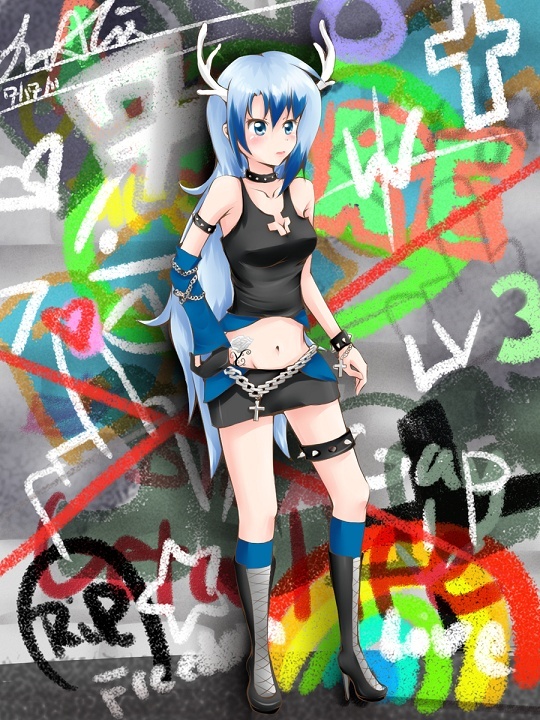 Character's Ability
: She has the ability to harness the power of the Ryujin, the dragon ruler of the oceans, and transform into a half-dragon form with the ability to control water and ice.
When does your character use these abilities?: In danger or to protect someone, also for convenience or boredom.
Control
: She maintains superb control most of the time, but when deeply angered, she loses her grip on her power and becomes destructive to everything around her.
Character's Weapon
: Claws, teeth, water, ice. Untransformed, she uses her bare hands with the occasional dagger/knife.
Character's Past
: She was raised alone by her mother until the age of 11. Upon this age and the realization of the extent of her powers, she began to experiment her skills on others (mostly her childhood enemies), often resulting in the grievous harm and even death of her targets. A few weeks after she had mastered her transformational skills, her mother angrily evicted her from the house for her strange powers and murderous ways. She lost control of her powers for the first time, brutally killing her mother. She considers Miracles the reason for her ostracism; she joined the Lights shortly after her mother's death. Her open goal is to destroy every Miracle and bring Lights to the ultimate power. However, her real intention is to dominate alone- she has secret plans to rid herself of the other Lights when their usefulness has ended.
Character's Life
: She lives a cruel and outspoken life as if invincible. She robs anyone of anything that seems of value to them or her. For many years she has lived off of the sorrow and misery of Miracles and humans. She is also known to abuse Lights if she considers them weaker than herself- she considers anyone and everyone her plaything. She lives in a large lush Japanese-style palace with many enslaved humans to do her dirty work. This castle itself is a playing card in her dominance; she ordered the Lights to create it for her in exchange for her cooperation. She, unlike most Lights, does not hate verbal singing; but she hides her love for it as a means of ensuring cooperation with other Lights. She sings in the secrecy of her palace and kills any witnesses.
Side
: Would like her to start out as a Light, fall in love with a Miracle...
Other
: She has a tattoo of a rose on her hip- this is her promise to herself. (It will be revealed later)

**If you say she has antlers, prepare for a slow and horrifying death. They are HORNS.**